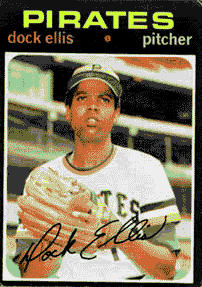 Image credit: sirbacon.org
 It's a story as old as the game itself: in 1970, a Pittsburgh Pirates pitcher named Dock Ellis was enjoying what he thought was a day off from his job at the ballpark, visiting with friends, enjoying some music, just hanging out. Surprised to learn that he was in fact the starting pitcher that day, Dock rushed to the stadium and took the mound, hoping the effects of the LSD wouldn't cause any problems with his...wait, what?
Yes, it's true; as they say in sports, "you could look it up." Although, as another important baseball aphorism goes, "some things just don't show up in the boxscore."
What does show up in the record book, however, is this: on June 12, 1970, Dock Ellis pitched all nine innings of a Major League baseball game, and did not allow a single hit. His feat is one of only 269 such games since 1875, which means it happens about twice a year out of thousands of games played. It is a cause for celebration, and a ticket to baseball immortality.
Yes, Dock was mistaken about his work schedule; he had taken LSD with his friends, and had to go to work that day, in his words, "still high." Although "psyched" and having "a feeling of euphoria," some difficulty ensued:
"The ball was small sometimes, the ball was large sometimes..."
"I started having a crazy idea in the fourth inning that Richard Nixon was the home plate umpire..."
"Once I thought I was pitching a baseball to Jimi Hendrix, who to me was holding a guitar and swinging it..."
But when the game was over, and the Fat Lady (undoubtedly Mama Cass) had sung, Dock Ellis was in the record book, a part of baseball history. Nixon, of course, went on to re-election and Watergate fame, while Hendrix, ever the iconoclast, went back to being dead.
You could look it up.