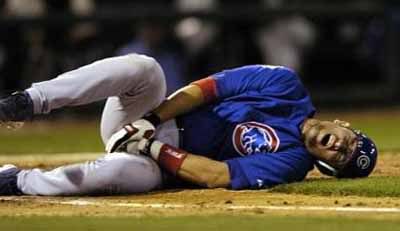 In an effort to change the fortunes of a franchise that hasn't won a championship since 1908, the Chicago Cubs today unveiled their new official logo.
The logo features an image of former Cubs player Nomar Garciaparra in a pose that team officials believe represents "the last 100 years of Chicago Cubs history in a nutshell."
"Although much of our history is painful, we wanted a logo that truly embraced that history," said a Cubs representative. "From billy goats to Bartmen, this is truly what being a Cubs fan is all about. It's about holding on to what's really important. When the fans see this image, we believe they will swell with pride."
The logo will also include the phrase: "The Chicago Cubs: It's a Whole New Ball Game."